Stripes are some of the stars of this season...any kind of stripes: Horizontal, vertical, oblique, superimposed and mixed together.
Lines drawn on clothes ,accessories, blazers that give to any look this jaunty and ironc twist and why not...a touch of navy that never hurts!
Yes i know...many of you will argue that lines are not easy to wear but thanks to Cosmopolitan's advices (march issue) we can avoid the Obelix effect...indeed we can gain height but most of all we can lose weight!!! :P
In short it's time to break ranks...here's how:
Le righe sono tra le protagoniste di questa stagione...righe di qualsiasi tipo: Orizzontali, verticali ,oblique, sovrapposte e da mischiare tra loro.
Righe tracciate su vestiti ,accessori, blazer che danno quel twist sbarazzino e ironico a qualsiasi look e perchè no...quel tocco di navy che non guasta mai.
Lo so, lo so ...molte di voi obietteranno che le righe non sono certo semplici da indossare, ma grazie ai consigli di Cosmopolitan (numero di marzo) possiamo evitare l'effetto Obelix...anzi possiamo guadagnarci in altezza ma cosa più importante perdere in larghezza!!! :P
Insomma è arrivato il momento di rompere le righe...ecco come:
Fendi
Versace
Prada
Prada
Prada
Prada
Fendi

Marc Jacobs
Stradivarius
Primark
Zara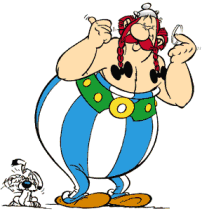 Obelix
Christian Louboutin